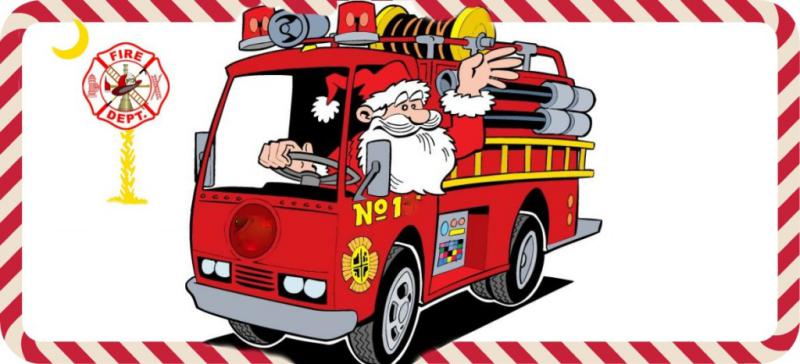 It's that time of year again. Santa is coming back to Winfield. Santa will be leaving the station around 7:00 pm so plan accordingly.
*** The community is encouraged to meet Santa along the listed roadways. Fire trucks must have room to turn around and maneuver. Santa will be stopping so Firefighters can hand out candy canes, please meet them roadside so routes can be completed on time. ***
Routes and dates are subject to Change do to weather. Emergency calls take precedence and we may have to make up missed streets on another night.
Updates will be posted on the Facebook page.
Monday December 12, 2022
Freter Road
Buckhorn Road
Stone Bridge Court
Stone House Village Court
Amantea Way
Woodbine Road (Between Buckhorn and Braddock)
Flemming Road
Glover Drive
Gillis Road (Between Flemming and Valley View)
Penn Hill Road
Walston Road
Perry Road
Vance Dr
Leslie Road
Gilbert Road
Tuesday December 13, 2022
Salem Bottom Road (Rt 26 to Arthur Shipley)
Winding Way
Arthur Shipley Road
Legos Choice
Teklen Drive
Montclare Drive
Sam's Creek
Winfield Way
Valley Drive
Eyre Court
Bee Court
Bloom Road (Valley to Sam's Creek)
Terrace Drive
Sequoia Drive
Skylark Drive
Cherokee Drive
Iroquois Drive
Sharidan Drive
Wednesday December 14, 2022
Woodbine Road (Rt. 26 to King Fisher Court)
Ashley's Trailer Park
Nature's Way
Farmington Lane
Splendor Drive
King Fisher Court
Village Green Dr
Fannie Dorsey Road
Shenandoah Drive
Streamwood Court
Seneca Lane
Elyse Court
Noland Drive
Danmarth Road
Streaker Road (Between Danmarth and White Rock)
Rebecca Court
Brass Eagle Court
Thursday December 15, 2022
Route 97 (Route 26 to Streaker)
Chiseled Stone Road
Steeple Chase Road
Piney Run Court
Elele Court
Piney View Court
Streaker Road
Lee Avenue
Grace Lee Court
Lasalle Lane
Arsel Lane
French Avenue
Green Hill Way
Manor Drive
Carroll Court
Valley Lane
Woodbine Way
Ivy Way
Friday December 16, 2022
Red Cedar Court
Rhonda Road
Gina Court
Kathleen Court
Linton Road
Ronsdale Road
Quail Drive
Crows Nest Drive
Falmouth Court
Covington Court
Viewpoint Court
Tanglewood Drive
Huckleberry Lane
Fantail Drive
Klee Mill Road
Rita Court
Saturday December 17, 2022
Chanter Drive
Bear Branch Road (Between Chanter and Salem Bottom)
Bob EL Drive
Muller Road (Between Salem Bottom and Ellen)
Ellen Drive
Frizzell Rd (Between Ellen and Salem Bottom)
Eden Mill Road
Breiten Court
Patton Drive
Donald Court
Sean Circle
Hoods Mill (Between Eden mill and woodbine)
Woodbine Road (Hoods Mill to the county line)
Sunday December 18, 2022
Timothy Drive
Dulany Terrace
Sam's Creek Rd (Between Timothy Dr and Franklinville Rd)
Franklinville Rd
West on Rt26 to Hooper Rd
Hooper Rd
South on Buffalo Rd to Rt26
CASH & GUN
CALENDAR
MORE INFO